We're opening doors for anyone with mental health problems so they can participate fully in society by reducing stigma and increasing opportunities to get involved.
We want anyone with mental health problems to be equal citizens in our society, and to be confident in disclosing their mental health problem too.
Enabling social participation
By fighting discrimination...
Between
and
The Institute of Psychiatry, King's College London, recorded an
in average levels of discrimination reported by people with mental health problems.
This time period covers the whole of the first phase of Time to Change, our joint anti-stigma campaign with Rethink Mental Illness.
---
Time to Change works with the media too.
Over 190 people who work in industries including journalism and broadcasting said they would discuss and report more accurately about mental health thanks to their work.
---
---
Help from our members...
Some of those experiences came from our members. Getting involved with Mind as a member has a huge impact on peoples' lives.
Through Mind membership I had the first opportunity to talk openly about mental illness... a life changing experience.
---
Using the Welsh language...
Mind works in England and Wales. It's essential we're talking in a language everyone understands. One way we do this is by creating bilingual documents.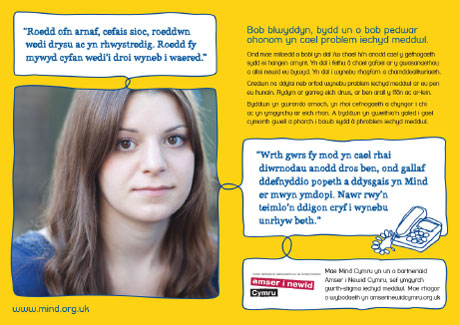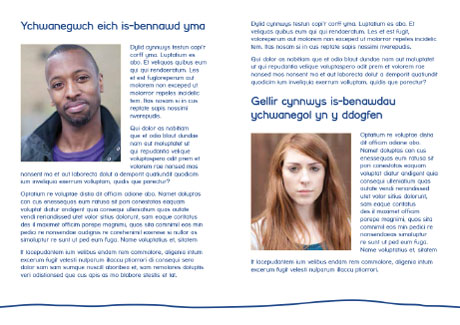 Another way we do this is by using Welsh to train our media volunteers.
Thanks to funding from Estyn Llaw, 11 people now have the confidence to speak out in the media in Welsh.
We have over 250 media volunteers in England and Wales who talk about their experience to journalists.
---
In government...
Four Members of Parliament, who we've worked with closely, bravely talked about their own mental health in the House of Commons in June 2012.
In Wales, four Assembly Members followed suit and initiated a debate in the Senedd too.
In February 2013 the Mental Health Discrimination Bill became an Act – made possible because so many Mind supporters joined our campaign for change.
---
In fields, parks and allotments
Over
people have looked after their mental health by joining an Ecominds project since the scheme began in 2009.
7 out of 10 people
experienced a significant increase in mental wellbeing by the time they left an Ecominds project.
Ecominds has helped
254 people
find full-time work.
366 people
find part-time work.
---
It helps just by being outdoors in a beautiful place surrounded by wildlife, but then I'm also able to contribute something and I feel like it's being valued.
I'm not treated like a social outcast, I am respected and encouraged in all that I do here, and I love working with all the different groups.
---
By opening new charity shops
We provided more than
volunteers
with the opportunity to build their confidence and gain new skills.
Our shops raise valuable funds by selling clothes, shoes, and household bric-a-brac that's generously donated by members of the public.
We opened 12 more shops between 2012/13, in areas including Rawtenstall, Sheffield, Durham and Ware. We ended the financial year with 134 shops in total.